There is a revolution underway. We have all seen and heard it. ChatGPT is a game changer. What we can do with it and how we unlock it is open ended. It is also truly relevant to Marketing teams and VPs and other Marketing executives are taking notice. We are only in the beginning stages of forming opinions of how revolutionary AI will be in our working processes and lives and it could very well be the beginning of a powerful technological transformation in this century. A PricewaterhouseCoopers (PwC) study revealed that the adoption of AI will fuel a 14 percent increase in the global GDP by 2030, representing an additional $15.7 trillion surge to the global economy.[1]
With every technological shift that has happened in the past, there has been a transfer of wealth, roles, and disintermediation. The one significant difference in what happened before was the barriers to entry. For example, during the internet revolution, there were large barriers to entry and creation of wealth. Like the introduction of the internet, the smart phone with the application (apps) revolution, both had barriers to entry and subsequent wealth transfers. If you knew how to code and you were able to get VC funding, you were able to build apps and other tools that eventually disrupted all the business levels.
How can Marketing participate in this AI revolution? The one thing about this AI revolution that has not gone before us is that there are much less barriers to entry. You do not need to know coding. You may need someone or teams to build applications, but in a few months, there will be many companies that will help you with this according to Microsoft. Microsoft announced in January 2023, the third phase of this partnership, including the general availability of Azure OpenAI Service which will fuel developer support.[2] The barriers to entry are much lower, you need less money, less specialized skills, and you'll need creativity and an open mind, and we know Marketers have plenty of that.
Marketing teams can now harness the ability of AI apps like ChatGPT, Midjourney, Bard and others to create marketing content, videos, graphics (both 2D and 3D), chatbot assist, visual assets, grammar correction, multiple derivative assets from videos and images, product, category or social post titles and names, SEO, proofreading, plagiarism checking, analogy creation, keyword discovery, summary and abstract creation, topic outlines and web scraping, and this is to name a few of the applications marketing can use AI assist tools to help develop and create.
So, how do we prepare ourselves, how do we build strategy and models to help us prepare and further modernize our marketing organization to compete effectively with today's marketing departments that are not augmenting AI. How do we use ChatGPT and convert it to modern marketing best practices that are actionable and achievable?
This industry is moving a lot faster than anything that has come before. The changes are really big. A Facebook "year ago" memory popped up on my Facebook wall. And it was a DALL·E photo I created, from Night Café app which is text to image creation. You simply write a prompt and get an image. For example, when I first used DALL·E, it was amazing to create art this way. DALL·E is an AI system that can create realistic images and art from a description in natural language. This Facebook memory image was only a year ago and in that time text to image has just exploded. Today, DALL·E can do more images in less time more easily and with advanced graphics. Many of the post images I am using today are all generated by Midjourney.
ChatGPT can handle a single task, like "code a website." But then you need a human to take action with the code. Autonomous agents, on the other hand, multitask all at once: code a website → publish it → debug it → add code….and voila. Despite a few brace attempts (AutoGPT, Multi-On, & others), I haven't seen anything actually useful yet besides simpler ones like Code Interpreter. Now Amazon is taking a stab at agents. In late July 2023, they announced that agents would be integrated inside Bedrock, their service that lets businesses access AI models like Claude and SDXL. The goal is to give businesses agents that can answer questions about their data and execute tasks. Why it matters: We're early, but this is the first legit recognition that agents could be very useful to marketing teams and processes.
AI technology has been around for quite some time. However, in recent months, AI has generated a lot of buzz and has become accessible and democratized for consumer use with tools promoted such as ChatGPT, DALL·E , Midjourney, etc. AI is artificial intelligence which collects and organizes information quickly and efficiently. However, with AI, there are limitations, and the technology is still in its infancy. We have heard that ChatGPT makes mistakes if you ask it cognitive questions and there are imperfections throughout the use cases. What is important is to be able to see AI technology for what it is at its current stage. For example, Tome AI was not great when it first came out. Now it is a terrific way to make presentations. This tool is really getting better and better, in just a matter of months. AutoGPT is becoming another tool which allows you to experiment with tasks and collections.
It is easy to feel overwhelmed and not know where to start. We are still early and some of the tools have limitations. What I want to do is empower marketing teams to use AI tools and make AI accessible by showing you methods and frameworks to use AI in marketing. I call it "co-piloting." With these co-pilots, you can gain strategic insights, streamline workflows, develop frameworks and standard operation procedures (SOPs), perform competitor and market analysis, support marketing operations and compliance and more.
Each marketing team can become a micro-creator of AI apps for their marketing purposes. Imagine simpler video creation and scripting, 3D environment creation, creating podcasts, connect TV motion video ads. And even small marketing teams can do this alongside the bigger companies that create and manage the AI generative ecosystem. Your marketing team can be early innovators.
So, what is our role in marketing, how do we use these tools? To solve efficiencies (or the lack thereof) AI in marketing is perfect for those use cases and will be the number one driver in Marketing use of AI. This will foster human and AI collaboration to make marketing teams more efficient by complementing human expertise, as a copilot.
Previous types of artificial intelligence used in marketing required extensive developer resources or specialists in the category to help Marketing use and acquire and manage tools, for example, that used machine learning and propensity modeling learning assistance where high value priority objectives were identified as gaining insights into website visitor intelligence, dynamic audience refresh and execution optimization refresh for reporting, as well as other use cases. These platforms (insourced or outsourced) are in the domain of expensive, annual ARR licensing within a few large SaaS digital experience and software platforms. ChatGPT democratizes the amount of data science understanding needed to get basic marketing functions completed and it costs next to nothing, for now. AI tools can function very similarly using the next best action – content recommendations, behavior-based optimization, develop creative trackers, author engagement funnels, and automate knowledge work. The technical potential to automate the application of expertise is increasing. The capabilities of generative AI could automate a broader range of marketing activities sooner and this could increase the productivity of the marketing process and scale programs.
Before I show you how to use ChatGPT, let us take a quick look at a traditional marketing system. It typically involves understanding your category, target market, developing personas, understanding the customer journey, developing your offer, creating your unique value proposition, marketing messaging, opt-in strategy, opt-in copy, landing page copy. And then there is all the content you need to market your offer.
Phew, that is a lot to cover, and it can take weeks, if not months, to gather and organize all the necessary information. With ChatGPT it can take a day or days.
Excited to see how? Let us crack it open! It starts with Quality Prompts. The secret sauce behind the strategy is the two types of prompts I will introduce you to.
Foundational Prompts that generate the [placeholder output] you will use to be able to generate marketing strategy, messaging, and content at scale, faster than you have ever dreamed possible.
Advanced Marketing Prompts generate output at scale and quality.
What makes these prompts unique is the 'prompt output' approach I use. This means you take prompt outputs from the foundational prompts and simply cut and paste them into the appropriate placeholder.
This article will focus on the foundational prompts. Be sure to bookmark and come back and visit my site to get additional information on these prompts and the advanced marketing prompts to take your marketing team to the next level with AI.
To get started prompting, and if you do not yet have a ChatGPT account, head over to https://chat.openai.com/ and sign up. It is free. Or you can get the ChatGPT4 for $20/month (at the time of this writing) which gives you additional functionality. I would recommend upgrading to Plus after you have a chance to use the tool.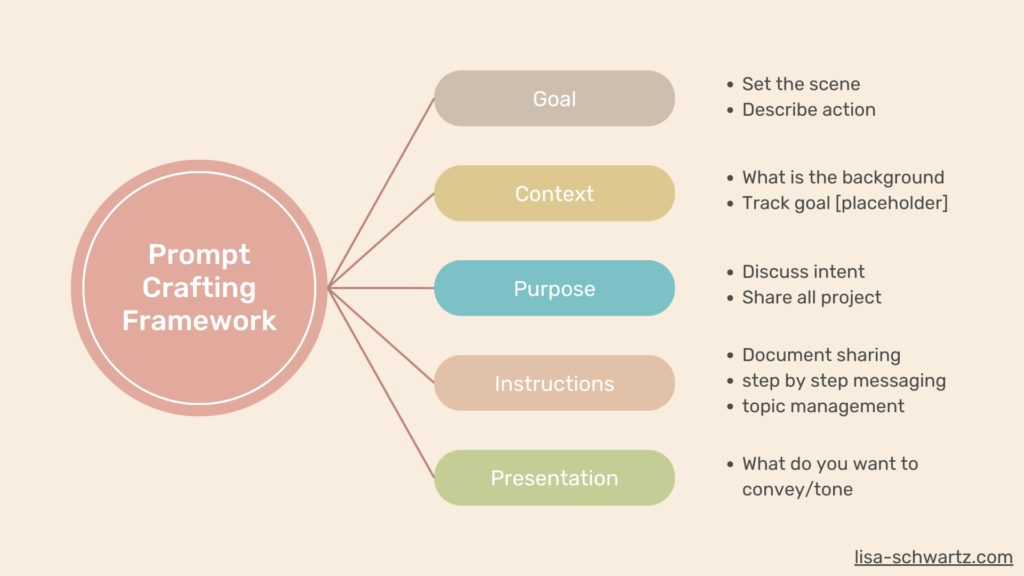 Step 1: Understand the Prompt Structure
Before using ChatGPT understand that there is a structure I apply to ChatGPT prompting. The structure has several parts and steps overall and I have been testing and experimenting to come up with this approach.
It involves:
1/Setting the scene: so that AI can understand the goal of the prompt and what role we want the chat to assume.
2/providing context and background: so ChatGPT knows what to produce.
3/Intent and purpose of the chat: why is AI doing the task, i.e.: why are we writing product descriptions (enable sales, sell, describe?) so that the response will give us more of we ask it.
4/ Instructions: this is where you can get highly creative, give it personality, tone, length, modifiers, it is an important part of the prompt.
5/Offer and what you receive back: lists, bullet points, code, headlines/sub-headlines/content block, so you can control the output.
Step 2: Load the Prompt (these are the instructions like what a manager would give to an individual contributor or a subordinate to do the work or a task).
Load the completed prompt provided in my article here. This prompt has been designed to generate structured copy, complete with attention-grabbing headlines, for every section of your opt-in page.
Step 3: Fill in the Placeholder Text
The foundational prompt is a pre-written piece of text with placeholder text included. Your job is to fill in the placeholder text with relevant information to create a personalized prompt for your organization. Once you have filled in the placeholder text, you can run the prompt and record the output.
Now, the output from this prompt is designed to help you understand your target market better, as well as produce the OUTPUTS we need for future prompts. We recommend you read the response to the prompt carefully, as you will learn so much about your target market here.
Step 4: Filling in the Placeholders
To create the personalized prompt, you will need to fill in the following placeholders:
Please enter what you do: This is where you will need to provide a brief description of your business and the services or products you offer. Be sure to be as specific and detailed as possible.
In this case, we simply paste the NICHE OUTPUT into the designated placeholder in the prompt where it says [enter your NICHE OUTPUT from your AI ChatGPT prompt program template here]
And then you paste the OFFER OVERVIEW OUTPUT from your AI ChatGPT prompt program template into the designated placeholder.
Step 5: Recording the Output
Once you have filled in the placeholders, it's time to run the prompt and record the output. The output you receive will be the foundation for the advanced marketing prompts later in the course, so it is essential to ensure the quality of your output is of a high standard. Keep regenerating the response until you like what you see.
Step 6: Outputs You Will Record From This Prompt
Once you have run the prompt and are happy with the response, record the following outputs to your worksheet:
* Target Market Output
* Core Problems Output
* Emotional Impact Output
* Desired Outcomes Output
Congratulations! You have completed a foundational prompt for defining your target market. By following these effortless steps, you are on your way to creating an effective marketing strategy that is tailored to your business. Remember, taking your time and providing detailed information for the placeholders is key to getting the best possible output.
Do not be left behind. Adoption is likely to be faster in modern marketing departments, where the use of tools and experiments with good data collection are present. This enhances the adoption of automation and where automation occurs earlier in marketing departments.
Follow me at lisa-schwartz.com where I will provide the next steps to foundational prompts and get you on your way to advanced marketing prompts.
---
[1] PwC, Global Artificial Intelligence Study: Sizing the prize.
[2] Microsoft, Modernize your apps and accelerate business growth with AI